Christendom and the Byzantines
The Byzantine period dates from the year 324 CE, when the Emperor Constantine I founded Constantinople (Istanbul) as the capital of the Eastern Roman, or Byzantine, Empire. Constantine converted to the growing religion of Christianity in 333 CE. In Jordan, however, the Christian community had developed much earlier: Pella had been a center of refuge for Christians fleeing persecution in Rome during the first century CE.
During the Byzantine period, a great deal of construction took place throughout Jordan. All of the major cities of the Roman era continued to flourish, and the regional population boomed. As Christianity gradually became the accepted religion of the area in the fourth century, churches and chapels began to sprout up across Jordan.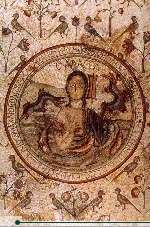 Personification of the sea medallion, Church of the Apostles, Madaba.