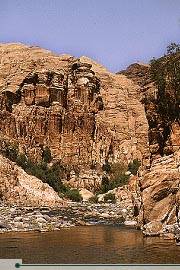 Wadi Finan. © Jad Al Younis, Discovery Eco-Tourism
The region, which extends from Umm Qais in the north to Ras an-Naqab in the south, is intersected by a number of valleys and riverbeds known as wadis. The Arabic word wadi means a watercourse valley which may or may not flow with water after substantial rainfall. All of the wadis which intersect this plateau, including Wadi Mujib, Wadi Mousa, Wadi Hassa and Wadi Zarqa, eventually flow into the Jordan River, the Dead Sea or the usually-dry Jordan Rift. Elevation in the highlands varies considerably, from 600 meters to about 1,500 meters above sea level, with temperature and rainfall patterns varying accordingly.
The northern part of the Mountain Heights Plateau, known as the northern highlands, extends southwards from Umm Qais to just north of Amman, and displays a typical Mediterranean climate and vegetation. This region was known historically as the Land of Gilead, and is characterized by higher elevations and cooler temperatures.