Throughout history, the land of Jordan has been renowned for its luxurious vegetation and wildlife. Ancient mosaics and stone engravings in Jawa and Wadi Qatif show pictures of oryx, Capra ibex and oxen. Known in the Bible as the "land of milk and honey," the area was described by more recent historians and travelers as green and rich in wildlife. During the 20th century, however, the health of Jordan's natural habitat has declined significantly. Problems such as desertification, drought and overhunting have damaged the natural landscape and will take many years to rectify.
Fortunately, Jordanians have taken great strides in recent years toward stopping and reversing the decline of their beautiful natural heritage. Even now, the Kingdom retains a rich diversity of animal and plant life that varies between the Jordan Valley, the Mountain Heights Plateau and the Badia Desert region.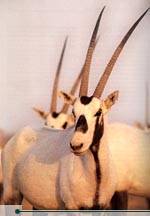 Arabian Oryx at the Shomari Reserve.